NOTE: This is a special edition of my blog. Some of you may have seen an earlier post on Facebook, this a revised version for SUTM.
My father Dick Gersh passed away after a long and wonderful life filled with family, friends, and colleagues that spanned generations and the globe. His life was filled with innovators, creators, and adventurers, truly some of the most celebrated people and landmark events of the 20th century. Many of you know of him through my posts, others personally too—it is my pleasure to share this tribute in celebration of a life very well lived and hopefully an inspiration and motivation for us all.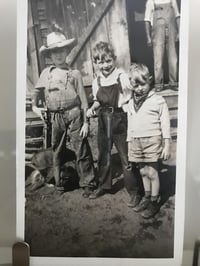 Richard "Dick" Bennett Gersh was born in Chicago in 1927 to Bill Gersh and Byrde Gore Gersh. He spent some of his happiest years on a family farm in South Haven, Michigan with his cousin Suzy, Marilyn, and others. Susan, my Dad, and I spoke recently about his love for the handpicked blackberries that his Grandma would make into a homemade pie. My father was so incredibly happy recalling the memory, it became a recurring topic for weeks; something he clearly cherished in his bank of comforting, happiest memories.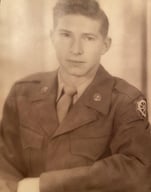 Dad went on to serve in the Army in WWII in Europe and we recently celebrated the 75th anniversary of his discharge. Interesting tidbit, he became a golden glove of his regiment - his father Bill was a boxer and had once knocked down 3x weight class World Champion Barney Ross (also a silver star earning US Marine war hero), after which they became great lifelong friends—not a bad pair of boxing coaches. After serving, Dad went to Syracuse on the GI Bill before entering the workforce.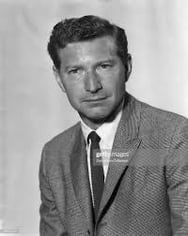 He initially worked for a magazine his father founded, Cashbox, a coin-op entertainment industry publication that evolved into a music industry trade publication. The coin-op industry (jukeboxes, pinball machines, etc) was a cash washing machine for many in it. Frank Costello and Meyer Lansky were at my father's bar mitzvah among many other colorful characters. Through Cashbox, he developed a powerful network of writers, editors and salesmen who went on to Billboard, RecordWorld, Variety, and other trades, consumer publications such as Hit Parader (Don Paulson worked at the PR agency, per below, for many years), and to the record labels.
After managing PR and Communications for Columbia Pictures and Screen Gems on everything from the Lawrence of Arabia to The Flintstones, my father had the entrepreneurial itch and started his own agency for PR, marketing, messaging, and business development in the music industry. It was here, at Richard Gersh Associates, or RGA, where he found his "groove" developing and shaping pop culture along the way. Dad started off sharing office space with friend Tony Bennett and onward the two went developing their careers together. Tony's sister Mary Chiapa, ran RGA's books. And my mother Arlene eventually ran all business operations for RGA's 40+ year successful run.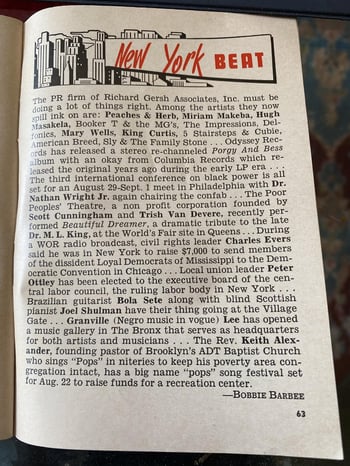 Early on, Dad worked with Otis Redding, Aretha Franklin, Ray Charles, Rufus Thomas, Willam Bell, Mary Wells, Booker T and the MGs, Peaches and Herb, King Curtis, The Delfonics, The Impressions, Miriam Makeeba, Hugh Masakela, Dizzy Gillespie, Wilson Pickett, The Staples Singers, Sam and Dave, The Mar-Keys, and many others. He built great relationships with Jerry Wexler, Ahmet Ertegun, Clive Davis, Charlie Koppelman, Tommy Mottola, Irwin Steinberg, Robert Stigwood, Don Kirshner, Dick Clark, Cy Leslie, Neil Bogart, Al Bell (many Stax/Volts artists were clients) and so many other leaders in the industry including producers, agents, managers, label execs, publishers, attorneys, and the media. The PR agency worked with artists, labels, executives, corporations, movie studios, songwriters, and publishers.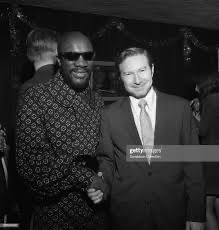 Dad was especially close with Isaac Hayes. One of his favorites moments of his career was working with Isaac when they won the first non-acting Oscar by an African-American for best original song in Theme from Shaft, along with 60 weeks on the Top 200 album chart and 14 weeks at #1 on Top R&B, two top 40 singles including #1 for the Theme from Shaft, and won multiple Grammys, among many other awards.
Issac, along with other artists, designated Dad part of the trusted "blue-eyed soul" designation, a great badge of honor. Something that meant a lot to Dad with it was having advised radio strategy to MLK. The movement couldn't afford to buy media, so it was on radio through DJ's where they got the word out and shaped much of the messaging. Dad's recognition of "blue-eyed soul" trusted status was real at a time it was not taken lightly.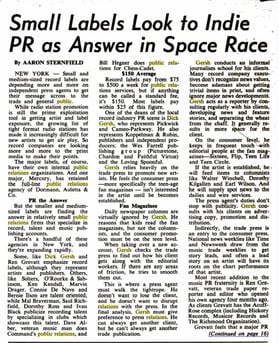 In addition to music, Dad also represented many publishers, music and print, including Argosy Magazine which was an adventure magazine in its day. They gave Sir Edmund Hillary a large award for the Mount Everest ascent that included bringing him to NYC for a few weeks full of media and press events. My father organized and spent virtually all of it together with him—an experience he cherished. Later in life, I moved to New Zealand and asked if I could look him up, my Dad said "Sure, but I think he's dead." And when I called Sir Edmund from a payphone at the Auckland airport, he got on the line and when I explained who I was, he said "Wow, is your Dad still kicking?" They both laughed hard when I shared the respective common comments, and that 'banter' later wound up in a magazine interview with Sir Edmund who said he loved it, and which my Dad did too, one of his favorite happenstance life stories.
These people were all innovators and creators to my father. He was humbled and felt so grateful to work with many of them as he pounded out his ideas and plans on his 1950's Royal typewriter every day. He enjoyed his simple pleasures from Yoo-hoo to Mallomars, and was an avid reader especially of history, as he smoked his pipes filling our home with the wonderful tobacco smells, organizing all his matchbooks just so. He loved his favorite foods, saying "Eating is something you have to do, why not enjoy it every chance you get?" He took such joy, and radiated enthusiasm, in virtually everything he did, making the best of it all—clearly a trait from his mother Byrde.
Dad was at the founding meeting of Woodstock and after working on it (no one knew how big it would become), he joked it was probably the only time his hype was surpassed by the outcome—such a PR joke. Later in life, Woodstock founder John Roberts gave me my first job at his MediaSound recording studio on 57th Street and would say he had a vested interest in my career development. Joel Rosenman, another Woodstock founder, was also very helpful in my fundraising and ventures. My father loved sharing relationships that would help others. It was truly his nature to strive to do all he could with nothing expected in return except seeing the happiness and success it yielded for those around him.
Dad handled the messaging and PR for The Who on Tommy as well as for Jesus Christ Superstar, arguably popularizing the term Rock Opera for the ages in these multiple media crossover global sensations. And he popularized 'Bubble Gum" when working with The Ohio Express, the 1910 Fruitgum Company, and so many other K&K releases. He worked on The Partridge Family and The Monkees, similar pop-culture successes at the time.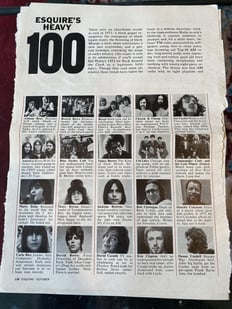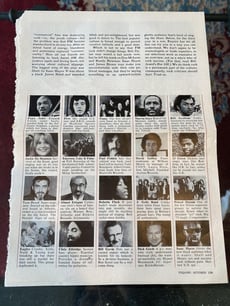 And he would bring me to countless business meetings and lunches, concerts and events, with industry players, something I am so grateful to have had in my life. One day while walking down 57th Street to lunch at The Russian Tea Room, I asked him what's up with a specific artist. He told me he wasn't working with that artist anymore. I asked why, being a kid, artists all seemed like friendships that just continued in fun. He said clients come and clients go. I asked, a bit worried about the family business, "Well how do you know when a client will leave?" Dad smirked and said, "That's easy, when they start believing what they read about themselves". That, from a PR guy—so perfect.
He worked with so many talented artists in music and acting, both directly and on projects with others. In no particular order, music talent also includes AC/DC, Meatloaf, Blondie, Kool & The Gang, KC & The Sunshine Band, Wild Cherry, Kris Kristofferson, Eddie Fisher, John Sebastian and The Lovin Spoonful, George Clinton, Gordon Lightfoot, Phil Ochs, Joe Perry, David Cassidy, Connie Francis, Engelbert Humperdink, Charles Aznavour, Badfinger, Sly and Family Stone, Cab Calloway, Eric Burden and The Animals, The Fifth Dimension, Barry Manilow, Gloria Gaynor, Melba Moore, Billy Taylor, Liberace, Pavarotti, Neil Diamond, Tom Jones and on and on. Actors/actresses include Gene Kelly, June Allyson, Eddie Fisher, Shari Lewis, Donald O'Connor, Don Ameche, Bob Hope, George Burns, Jackie Gleason, and more.
So many stories and experiences, and one of Dad's all-time favorites was just 18 months ago when I was texting with a childhood buddy about the NYC showcase for AC/DC. In searching for the first NYC concert event in August 1977, I stumbled across pictures in the comments.. As I recognized things and people from being there and backstage as a young kid, I found a picture of Angus joking around backstage and saw my mother smiling in the background. I can't tell you how many times my Dad spoke about that story; and when he fell ill, I discovered that he kept a printed copy of my post at his reading place in the house, it was about our finding the vestige of Arlene. And he shared it widely and happily.
So many genres, personalities, and hits, so much creativity. To Dad, it wasn't work, it was what he was put on the planet to do and he couldn't help himself from succeeding in doing it. I was speaking with lifelong family friend and record producer/writer Charles Kipps the other day and he remembered a moment with my Dad and Van McCoy when they literally came up with the specific dance to popularize The Hustle in my father's office minutes before an NYT reporter showed up for the interview.
I once asked who were some of his favorite talents to work with over the years. He didn't hesitate with Gene Kelly, Olivia de Havilland, and Jackie Gleason. Gene is the epitome of a 'triple threat' who also defined grace and respect. My parents spent much quality time with Olivia in Paris on the home video release of Gone With The Wind and absolutely cherished it. And Jackie exuded a joie de vivre that was truly larger than life and was such a great friend. They even did a spoof on my Dad in an episode of the Honeymooners with a publicist character named Dick Gersh. There was a shortlist of songwriters and producers next, a few musicians, executives, and so on. He always enjoyed their passion and thought processes. He had so much respect for talent and those who handled it with grace, and with a love of life in it. A true reflection on himself.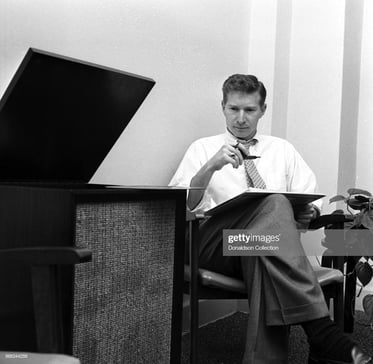 And Dad gave back with countless lectures at Syracuse, NYU, Columbia, FDU and the institutions over the years. He would bring in industry leaders—Clive Davis, Ahmet Ertergen, Paul Marshall (my inspiration for law school), and so many others to give back to the aspiring students. I cannot begin to list the many talks at local clubs in NJ later in life, as I cannot begin to list the charities he supported with donations. And the times with my entrepreneur and childhood friends, the hilarious lunches and dinners constantly filled with banter and practical jokes, sharing wisdom and laughs all the time. He absolutely loved spending time with my younger generation of friends and was tirelessly curious asking about their business, career, and life development.
Perhaps one of his most favorite things was giving back to his grandkids. From my sister Debra's family with Greg and daughter Sophie in Falls Church (three generations of all Syracuse made my Dad so proud) to Kathleen and our Heathens in NYC and our place upstate. Seeing first hand his endless joy with Crosby and Sawyer, reading to them as infants and toddlers to playing baseball and board games, to the endless teasing of each other (especially when it turned on me), his heart was most certainly full. Dad would often deftly weave in some Grandpa wisdom and lessons of life for myself and them too. His infectious laugh careening through the house or a restaurant or on a golf course made us all smile and laugh harder.
The best for last. Dad's entire world revolved around Leeny—my Mom and the love of his life. They spent 49 years of marriage together, commuting together, dining together, and playing tennis on weekends together and so on. And from the day of her fluke accident until she passed, he never got angry, never raised his voice, never uttered a curse, he was just focused on making the best of it, for everyone. That was always his way, such grace, especially when under fire. He figured out a new life with friends and made the best of it, gracefully, something that should be an inspiration for us all. And those friends include some who are most special to him and all of us.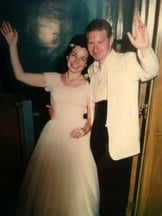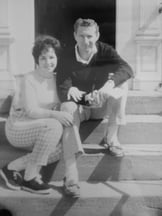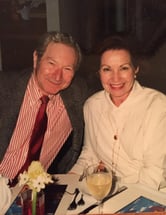 Not long ago, I asked him what he does most days, he said "Well, I get up and have breakfast, read the papers, sit outside and read a book while smoking my pipe. I go to Nicolo's and get an Italian sub, eat half for lunch and save the other half for dinner, then maybe go upstairs and practice for The Big Snooze…" I said wait, what is that last part? He said, "Take a nap, it's practice for The Big Snooze. Someday I'll have to do it for eternity and I don't want to screw it up!"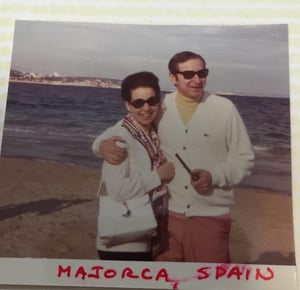 Well, I recently posted about his snapping a sprig of the willow where Mom's ashes are buried by our pond. He kissed the sprig and put it in his pocket as the wind blew the willow's sinewy branches around him. It was a beautiful moment.
But I have to be honest, they were both so pragmatic about death. They never put in much thought about their place after death—they actually joked about it at times, Dad once asked my Mom if he went first, would she put his ashes over the mantle, to which she replied dryly, "Meh, I'm not a keeper." Yet a few weeks ago as we knew the end was coming, I offered to my Dad that we could put his ashes under the willow at our pond, his voice cracked and he lit up, like that little boy on the family farm just so excited for that simple, comforting love of a homemade blackberry pie, as he said "Oh my, I'll be able to spend eternity with Leeny under the willow?! Yes, yes, that will be wonderful!"
Yes, it will be for them. And Dad's memory is certainly 'still kicking' for a long time to come... Cheers.
We are not planning any service or memorial to celebrate Dad at this time due to COVID, but hopefully will in the future. However, if you would like to donate in our father's honor, please do so at either The Mr. Holland's Opus Foundation which provides musical instruments to kids in need. Dad worked with both Henry Mancini whose daughter Felice is the CEO and board member Bob Ezrin who is also a close friend of mine. Or donate to The Glen Ridge Public Library, one of Dad's favorite places to support and where we will be donating many of his extensive book collection.